Students
The Center has a broad and all-encompassing definition of entrepreneurship. Whether a student wishes to found a company, join an emerging company, or join a high-growth, venture-backed company, they are part of our entrepreneurial ecosystem at Tuck. We also welcome those who are entrepreneurially curious: students who would like some exposure to entrepreneurship but may choose a different career path after Tuck. Some of them have aspirations to take the leap into entrepreneurship later in their career. Some aspire to drive innovation within a larger company. We are here to support students on their individual entrepreneurial paths.
For the founders, those who actually want to start a business, the center has created the Tuck Startup Incubator. In weekly sessions, teams of entrepreneurs work with each other to transform their business ideas into actual businesses. Along the way, they receive expert guidance from guest speakers who offer advice on topics such as corporate law, intellectual property, and go-to-market strategies. Students have access to a robust community of mentors and access to direct advisor support.
The center also creates opportunities for builders, students who want to help an early-stage company grow. The center operates the Early-Stage Project Exchange with these students in mind. The Exchange helps connect nascent Dartmouth-affiliated companies with Tuck students interested in contributing their skills and gaining startup experience while working on a specific business-need project.
In close collaboration with the Center for Business, Government and Society, the Center for Entrepreneurship co-leads a variety of efforts around early-stage impact investing, including overseeing and advising the Tuck Social Venture Fund.
In addition to these opportunities, the Center hosts a variety of events that welcome entrepreneurs, including Tuck alumni, for workshops and talks. Students sign up for these events via Tuck Connect, the school's intranet site. Announcements regarding these events are also shared on CE's Sharepoint site and its Slack workspace.
Current Tuck Student Resources
Watch: An Introduction to Entrepreneurship at Tuck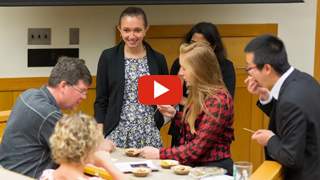 "The Center has helped me put entrepreneurship at the core of my Tuck experience. Without their support and mentorship, and the Incubator Program, my company wouldn't look the same today."
Austin Pittman T'21 | Founder, Blue Norther